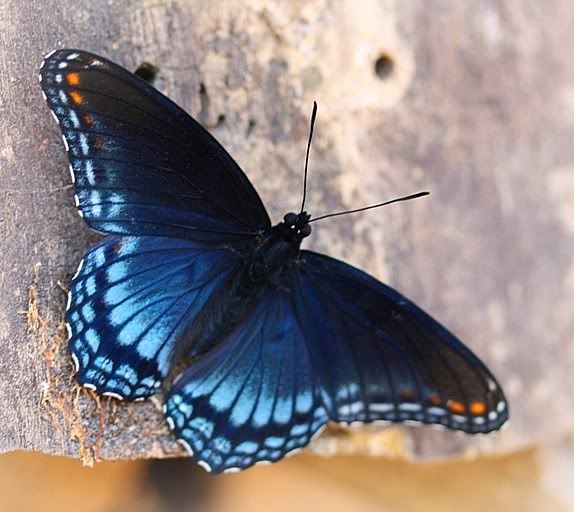 This wonderful Red Spotted Purple butterfly visited me a couple of days ago and I just had to get it's picture. Okay, so it wasn't visiting me but checking out the "eats" around the place.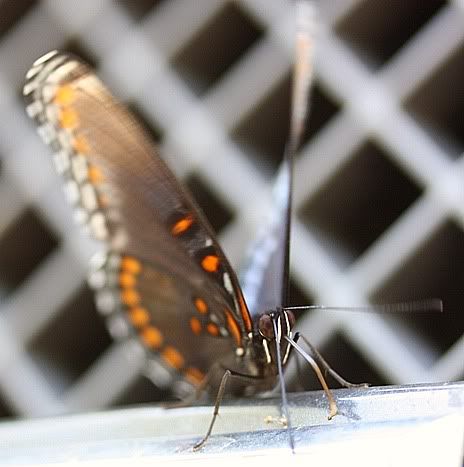 Here, it is on the bumper of my van. The van that nearly seriously injured and maimed (aren't those the same?) the children and I coming home from Shtuffmart yesterday.
The power steering went "bye bye" as I was pulling into the drive and I ended up underneath one of the water-sucking red cedars that poses as a dust barrier to the side of the driveway.
I've informed the husband that I will no longer be driving the death mobile or will the children be entering the unsubmissive monster until it has had a thorough goin' over.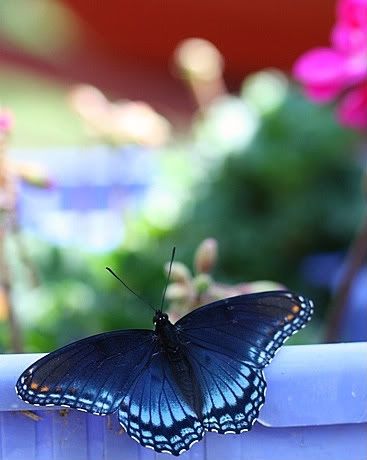 So I'm without wheels for the time being, but we've got lots of shtuff, thank you, Shtuffmart. And do you remember the
hair-raising adventure
I had after getting back from a Shtuffmart run this past winter?
And another question concerning Shtuffmart. Why did they stop selling Campells Cream of Asparagus Soup? You don't know...neither did one of the friendly Shtuffmart workers. Oh well.
My son is in Scouts. This was taken at the Boy Scout Banquet this past winter.
I'm really proud of the little guy...the big guy, too, of course.
But I think you'll understand where I'm coming from when I share that he's really developed a love for reading!
That's a big deal for my husband and I as we're "readers."
The whole family is now officially a bunch of bookworms...I love it!
And now I must share that the large red cantankerous bird that goes by the moniker (wow, I've never used that word in a post!) of Mr. Incredible has run out of time. Remember, he's the beady-eyed rooster in the post right before this one.
Okay, here's a picture.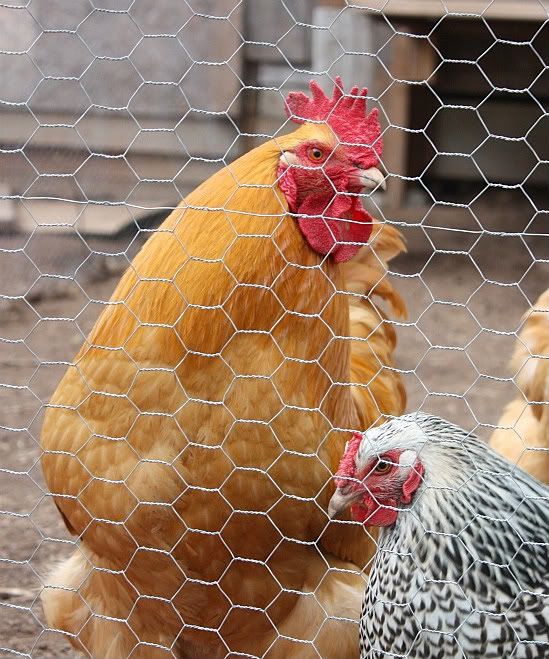 That's right, he's oooouuutttaaa here!
Today was his last. Tomorrow morning he goes the way of chicken and rice.
I will video. No not the messy stuff. But the husband trying to catch him. I'm too chicken (sorry, I couldn't resist) to get anywhere near him. He's a mean one.
Stay tuned for more later,
Julie