Just to let you know, there are quite a few cats here.
This wasn't planned mind you, but the veterinarian (my husband) didn't quite get things taken care of quick enough with our young female, Ashes.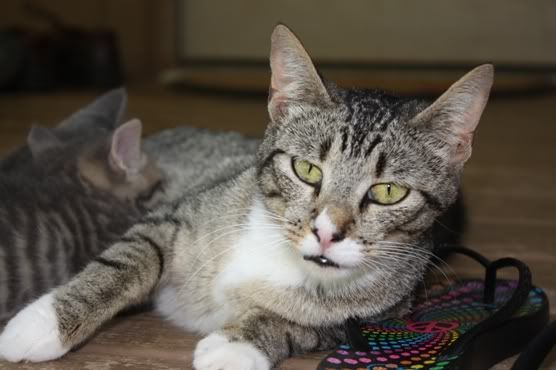 Honestly, it has been an enjoyable experience having three tiny balls of fur romping on the front porch. The children love playing with them and as my husband says, "Every child should experience a litter of kittens."
Still I watch Ashes with them and feel a bit sorry for her.
There are times when her face says it all.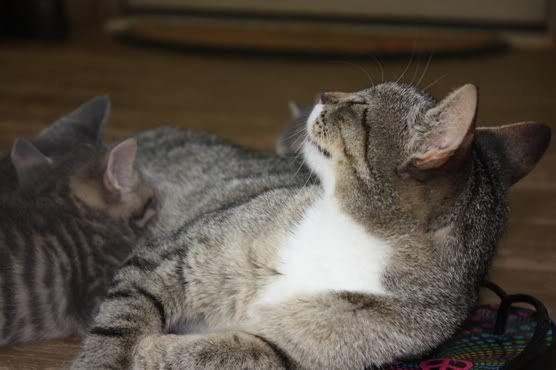 "Hey, watch it with the teeth back there!"
She has been a good mother, good to keep the kittens away from our backporch cat that is foul-tempered and good to let the kittens nurse whenever the kittens paw at her.
But even though this has been such a wonderful and educational time for the kids, I will be so happy to see the little ruffians go!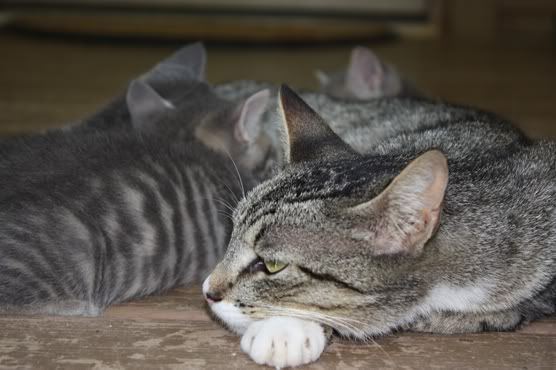 Then Ashes, your kitten bearing days are over.
But we will have the memories.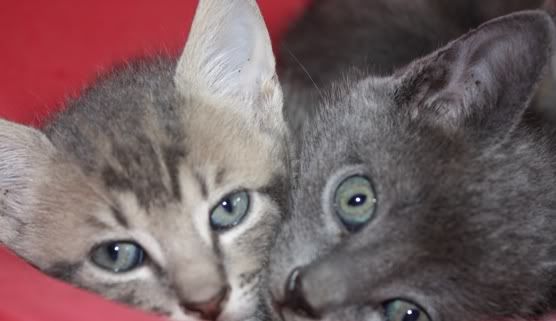 I alluded to the backporch cat.
Her name is Annie.
Annie is El Supremo among the critters at Forty Acre Farm.
Even our Pittbull/Lab mix that runs down rabbits and eats them whole, bows in submission to Annie.
One of the other dogs (we have three,...sigh...), a Collie/Australian Shepherd mix, learned his lesson with Annie the hard way.
One day while the children were jumping on the trampoline, this particular dog sat by the trampoline and commenced to barking excitedly. Annie who was still a frontporch cat at the time, leaped from the porch, ran to the dog, and literally jumped on him, yowling, biting, and clawing him!
As soon as the dog disentangled himself from her he went flying out to the pasture, yelping with his tail between his legs. Annie even followed for a short distance, yowling the whole time.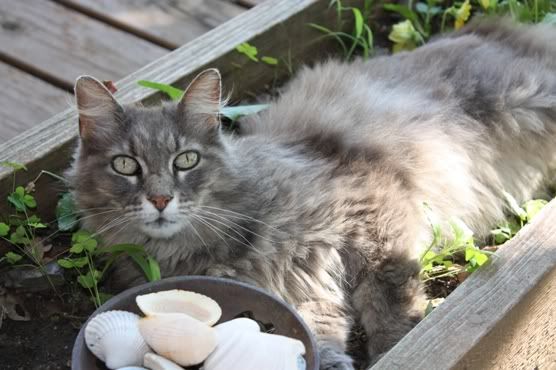 She's quite a sight when she gets her dander up.
What's a dander?
Then last but not least, there is Bandito.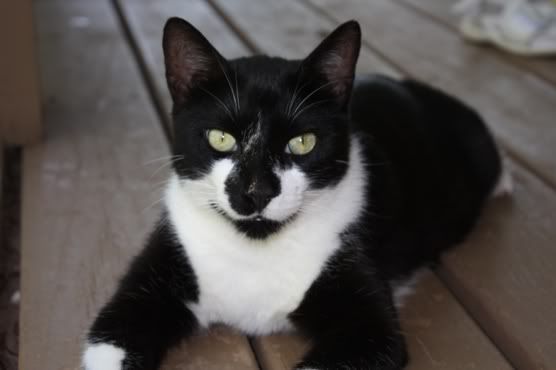 Bandito is Ashes brother, they were litter mates.
He's huge...which is strange because his sister is a small cat with a slight build.
But Bandito is very large and heavy. When he comes running across our wooden porch to be fed, he sounds like a medium sized dog.
He has the most wonderful meow that I have ever head, too.
Bandito is one cool, calm cucumber and probably one of the more attractive cats I've owned.
With all this being said or typed that is about cats, I have to admit that cats really aren't even close to being my favorite animals.
But I'm thankful for our li'l kitty crew!
Thanks for visiting and have a blessed day!
Julie