The following entry was from last Spring and I originally posted it at my blog at Homeschoolblogger. But I thought it important to get it out to many of my friends in the area where we live as we've just scheduled the history fair for this upcoming year. I hope it's helpful in giving some ideas!
I have had the privilege of heading up our local homeschooling history fair for the past two years. Last year was my first time to do this and we had a huge response. Sixty-two participants worked on projects that were creative, informative, and many downright amusing (see the Charles Shulz board further down).
My purpose for this particular post is to direct first-time participants over here so that they can see what the finished product looks like.
These two boards are neatly done and I like they way the pictures are matted with contrasting colors, makes them much more noticeable.
Also, notice how the subjects of these boards are front and center as well as in larger font than the other writing on the boards.
You gotta love this! This young man nearly papered his whole board with "Peanuts" comic strips by Charles Shulz, his subject.
It's always a good idea to also include some props in front of your board, not necessary of course, but it does add a little more depth and interest to the project.
But you do want to be careful there aren't too many as they can distract from the subject and cause your display to look cluttered.
This is fun, makes you smile.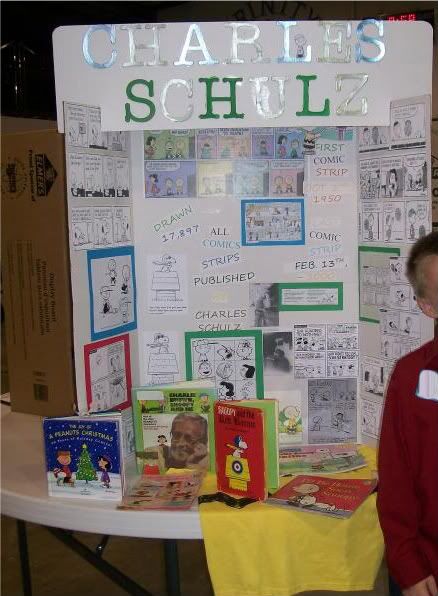 This project was done by a mother and her four-year-old daughter. This particular woman is a wonderful seamstress and a fan of Victorian era clothing. Both the daughter and mother wore civil war era clothing while presenting this project. What's not to love here?!
Love it, love it, love it!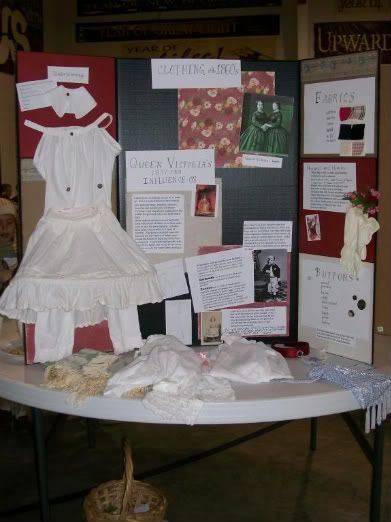 These two board were done by a young man (he did the Weapons of the World Wars) and his twin sisters. Please notice all the media in front of the boards. They had a documentary of World War II going while presenting their projects.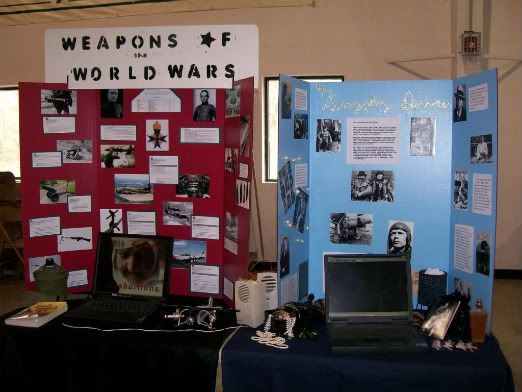 This board is neat and to the point. I like that the child has obviously done an activity that had to do with his subject matter. You can see the hand-made shield in front of the board. Did you also notice the hand-written report that has been fixed on the board? Kudos to this parent because I know personally the hours that it takes for a child to write something like that out by hand. In a later picture, I'll point that out with one of Aubrey's boards. I felt it was important at the time because we were working very hard on penmanship. Now, I'm fine with her using the printer for a lot of her writing that needs to go on her board.
This particular board is Aubrey's last year project. She obviously did it on the Mount St. Helen's eruption. She included a cut-away diagram of what a volcano looks like as well as a time-line of the months prior to the eruption.
She included a story of one of the victims of the blast which gave the project some added interest and emotional depth.
Aubrey enjoys drawing and painting so I had her make a before and after picture of the mountain.
The notecards have "fast facts" or "bullet points" about the geography of the mountain, statistics concerning injuries and fatalities, as well as damaged caused by the blast.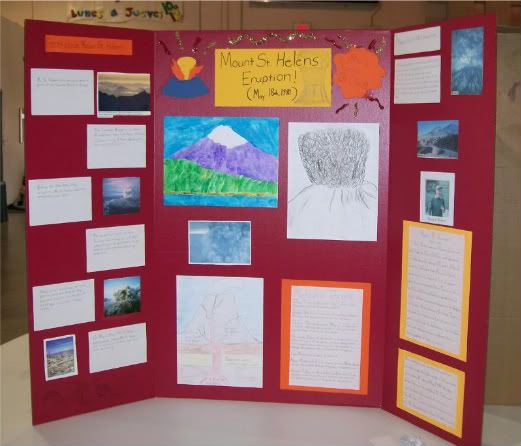 This project was done by two young ladies on the life and works of theologian and author C.S. Lewis.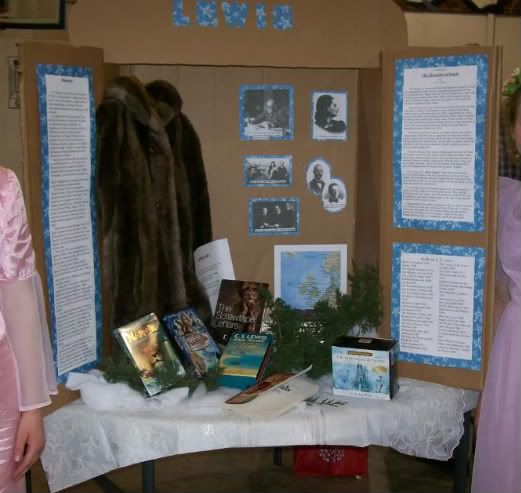 Isn't this wonderful!
Can you tell I'm so proud of these kids?!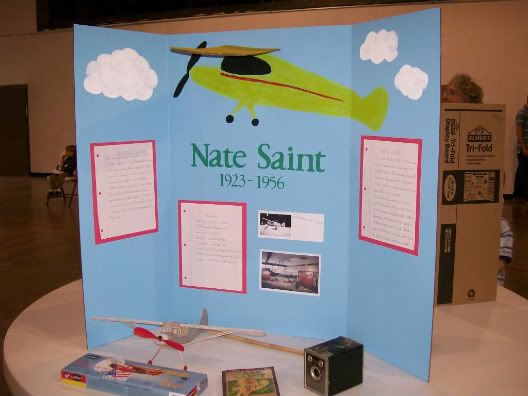 This was done by a five-year-old boy. He knew all about his subject, too!
Absolutely adorable!
This project reminds me of something that I wanted to share on my particular philosophy on preparing a board for our fair.
I'm totally okay with parents helping their children with these projects. I feel that working together on these projects promotes discussion on the child's subject, which also promotes reinforcement of what the child has learned. I also feel that the parent can guide the child to compose their pictures, charts, and written work on their board so that it is more aesthetically pleasing. As the child ages, the parent will give the child more freedom as to how they would like their presentation to look. If the child is a very independent child, as the one that did this particular project is, guide carefully as to not quench their creativity.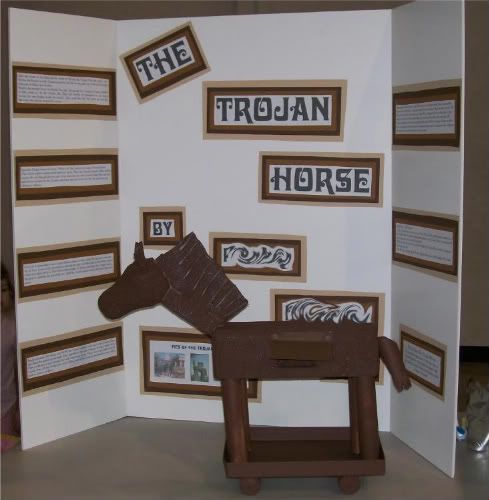 These next few pictures are a few projects from our 2008 history fair.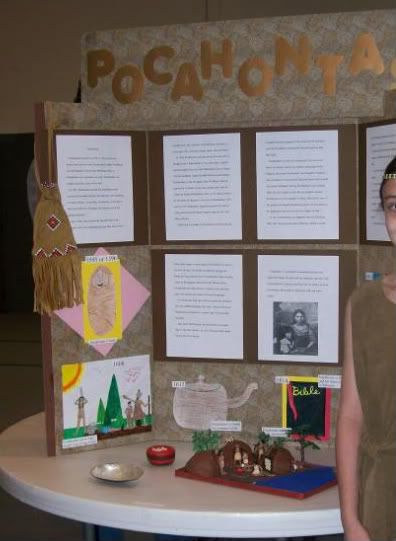 I love the duct tape and masking tape on the shield and what a fun project for a young man, Leif Ericson.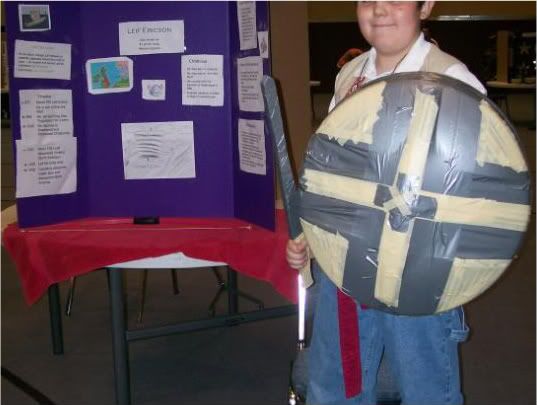 This project was done by a five-year-old boy who wore a wig with braids and dressed in a light brown tunic with moccasins. Costumes really do add a bit more to the whole experience!
But again, not necessary as I'm aware that many children don't want to bring too much attention to themselves.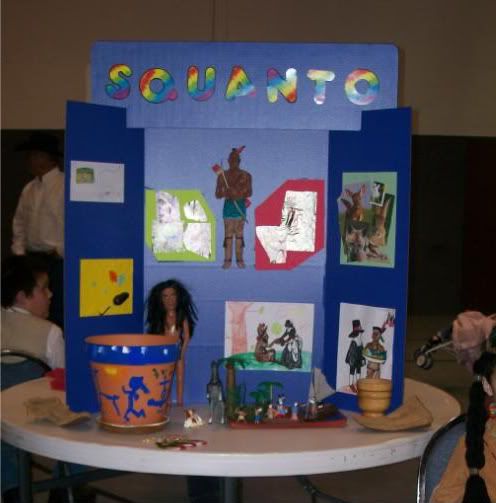 Oh, the book lover in me absolutely adores these projects!
This young lady has also arranged many of Burnett's works very neatly in front of her board. Lovely.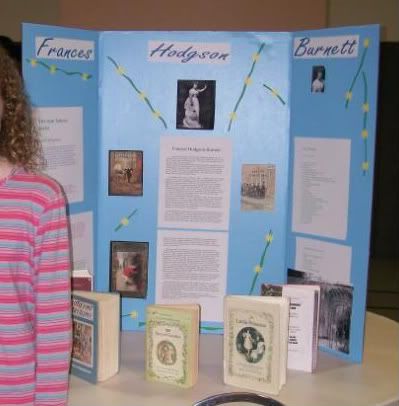 This board, Interesting Facts of the American Revolutionary War, was done by my middle child, Lillie.
It captured her personality perfectly!
She put a picture of her brother up on it (he was four at the time) with a frock glued to his body and the caption, "Boys wore frocks until they were five-years-old back in the 1700's." There was a bubble glued next to his head that said, "Get me out of this get-up!"
This is Aubrey's board from two years ago. Her subject here is Daniel Boone. She did a time-line and glued a hand-written report onto her board along with lots of pictures.
The internet has many sites for getting coloring pages on a wide variety of subjects. You can see here that Aubrey has colored one with Daniel Boone as the subject.
I really just posted this picture to show Aubrey's dress that she wore while presenting her project. Tim's mother sews beautifully and the girls have thoroughly benefitted from her talent!
It is wise that the child is well-versed on their project as parents, relatives, observers, and friends are encouraged to try and visit as many of the projects as possible and talk to the children about their project.
History fairs are a lot of fun, educational, and a great tool for showing relatives or friends units or projects that the child has been working on at home.
Again, I feel so honored and privileged to get to be a part of it!
I hope you're having a productive and blessed week, Julie