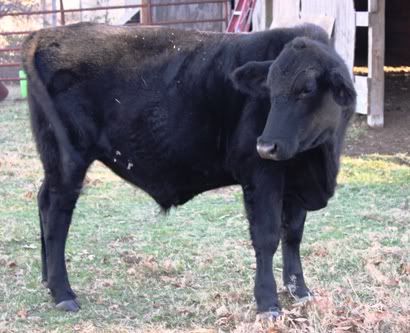 Otis at eighteen months
I was just outside to let the chickens out to freerange, when I noticed our large (appr. 1000 lbs) 18 month old brangus steer, Otis, hurrying around the barn towards the trough. He didn't act at all interested in what may be in there but stood, head up and alert, looking around with an air of agitation. He then bellered loudly several times with an expectant expression on his bovine face, turned quickly and exited as quickly as he had entered.
I couldn't help but stop and observe all this with a bit of amusement and curiousity as number one, Otis never moves this fast and number two, Otis never seems to get excited about anything except food.
While standing there I realized his little sidekick, Peanut, wasn't with him.
Peanut is our "mistake" calf.
Last May, I asked Tim to buy me a beef calf to bottle feed and raise hoping one of the kids would someday show it.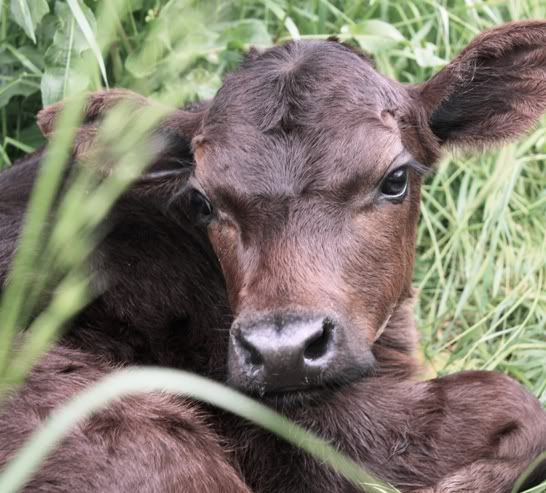 Peanut at two weeks
Peanut let us know real fast that he had other plans.
Peanut, short for Peanut Brain, is our juvenile delinquent calf. Barbed wire means absolutely nothing to the little lame brain, he goes through it.
Peanut currently
We've caught him time and time again in the barn trashing the place. He goes through dog food and chicken feed like he's poppin' a peppermint in his snout!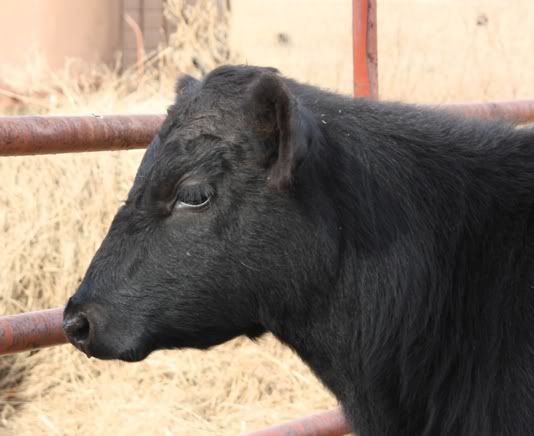 Any tool left on the barn floor is a target and Peanut doesn't miss.
So as I stood there watching Otis's odd behavior, I realized he was looking fervently for Peanut.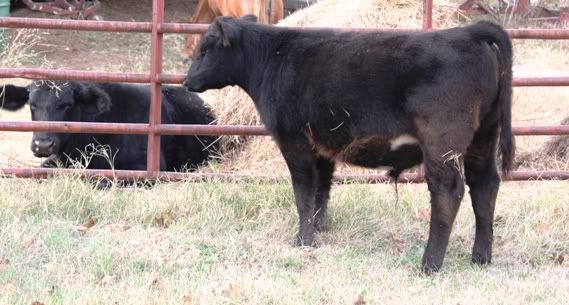 Peanut and his surrogate mother, Otis.
We had laughed that it seemed Peanut was attracted to Otis early on and stayed at his side like a calf does with his mother.
But to see that Otis needed Peanut, too, was rather comical.
So turning back towards the house and shaking my head, I thought, "Wow, I've seen it all."
I was met by one of the dogs carrying what looked like the hind leg of a deer.
Hmmm, farm livin', it's definitely never boring.