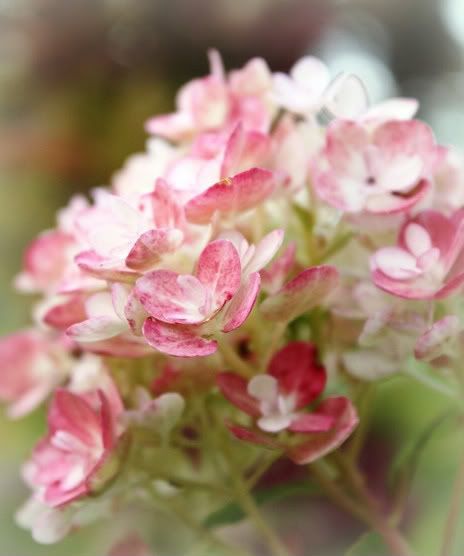 Wonderfully, I've found that many of you presently are of likemind out there in the real world, the cold winter world. We're dreaming of Spring and all its offerings, blessings, and warmth.
I've been enjoying all the Spring gardening planning posts that I've been reading at some of my favorite blogs...and dreamin' and plannin' my own garden.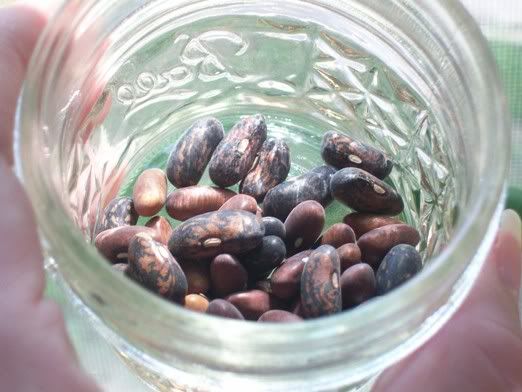 This year, one of my goals is that the children and I join one of our local farmers markets and sell eggs, produce, and flowers. I don't know that it will be wholly accomplished. We'll see.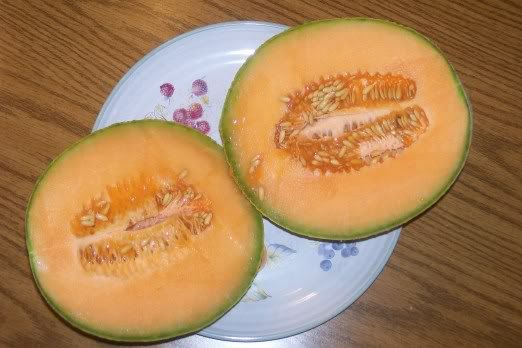 But forgive me for being a weather whiner, long awaited projects are beginning to take shape during these frigid days, also.
Tim's parents came this past weekend to celebrate Christmas and his dad lent his muscles and building expertise to a play structure that Tim has been planning for quite some time.
He found the plans
here
.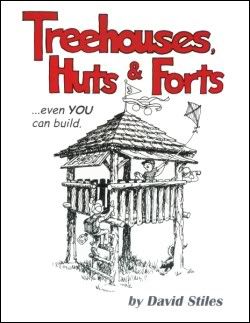 A friend of the family came over to help and brought his whole family (wife and all five kiddos). We had a blast! And the guys got so much done.
With two tractors and plenty of muscle, the largest part of the project was completed...getting the six large poles in the ground.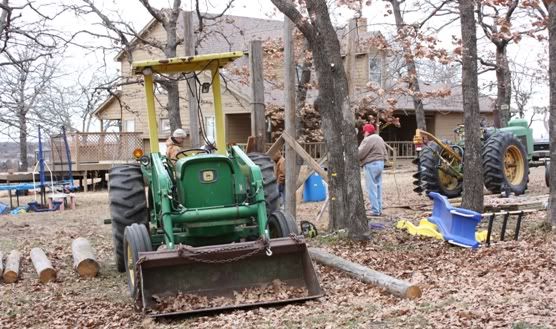 The kids are excited and looking forward to the finished product as am I!
Tim's mother surprised the girls with sweatshirts and now they're the "Christian Chicks."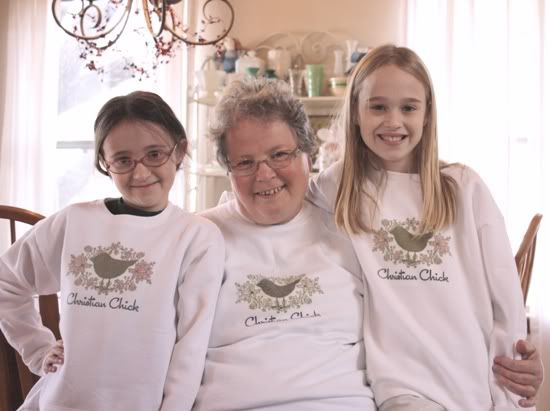 My mother has knee replacement surgery next Monday. I'm really desiring your prayers in this area as I've heard so many discouraging accounts of how hard it is to recuperate from this particular type of surgery. Please pray her knee would heal quickly without incident and that the Lord would continue to provide all that she needs. She's had such a tough time in this life and admittedly so much of it is due to unwise decisions and her mental health issues, but God is merciful and she's precious to Him, too.
A good blogging friend of mine, Sally, is having a fun and creative
contest
at her blog,
Diamonds in the Rough
. Recently, she
posted a picture
of her girls "getting into the Word" at her site. I commented, "P31's in progress." To which she commented back here that this was every morning before breakfast. In fact the motto at their house is, "No Bible, no breakfast."
I loved it!!! And I was challenged...really. So for the past two mornings we've all read our Bibles and then had Bible study and prayer afterward
before breakfast
. I am determined to keep it up. Keep me accountable and ask me sometime if we're continuing to read our Bibles every morning before breakfast, please.
Thanks for clicking over and God bless!
Julie