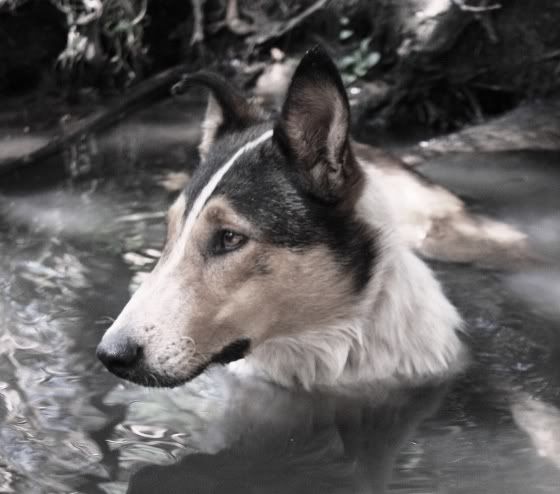 The dogs were gone all day yesterday.
This is really quite normal, even though we don't approve.
But living in the country and I mean way out in the country, we need them loose. They're a part of Ranch Security and yes, I'm borrowing the term from the "Hank the Cowdog" series.
But seriously, along with the guns that we possess, the dogs are a valuable part of keeping the place secure.
And not to mention, they keep the predators (coyotes, bobcats, racoons, and foxes) from killing our free-range chickens.
Last night only two dogs made it home. The oldest and the youngest.
Our highly athletic Nick was still gone.
This morning, not-so-bright and early, Tim and I went outside to see if he was back. He was not.
We went about our morning chores taking a break every now and then to call and whistle.
Quite honestly, I made myself hoarse.
A couple of hours later, Tim left for work and Nick still was not home.
I know I've said derogatory things about Nick and even posted an
entry
at the other blog that didn't quite play up his best features.
But, I love that pup. He's my tried and true hiking companion. Always behind me on the trail and occasionally sticking his sharp Collie nose into the back of my leg. We connect in an odd master/dog sort of way.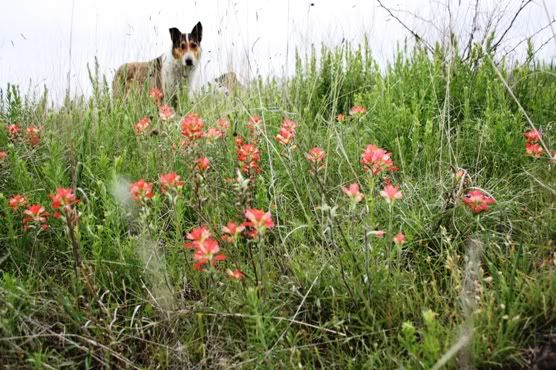 Around 9:30 AM, as I was making my way into our schoolroom, I looked up and out the front window that faces the driveway and saw Nick limping up the drive. He had his back left leg pulled up and wasn't putting any weight on it.
Not being one to be subtle, I exclaimed, "Oh my!" and ran out the front door...of course the kids were following close behind.
He laid down in the side yard. I told the kids to put the other two dogs in the kennel so we could get a closer look at Nick. But I already had a pretty good idea of what we were going to find....a gunshot wound.
The children were able to get the dogs in the kennel and came over to where Nick was lying on his side in the grass. Upon closer inspection, yes there was what looked to be a gunshot wound in his upper left thigh. There was fresh blood and dried blood on his thigh, leg, and foot.
I called Tim at work and he told me to give him 1000mg of moxicillian. I crushed it and an aspirin up into some catfood (we were out of dogfood), warm milk, and diced bologna. Nick ate it.
Now we wait until Tim the veterinarian gets home and gives our Nickaroni a more thorough examination.